BECOMING A TEACHER IN CALIFORNIA
There are many steps to becoming a coach and teacher here in California. One of the first steps, if you're a teacher, is figuring out how your teaching credential will work here in California. If I was from outside the state looking to come in California, I would make sure to have that step taken care of before you start applying to schools. It can be a bit of a process. Folks don't want to waste a lot of time evaluating a candidate from out of state who isn't cleared to teach in the state. So, get that squared away first. That way when you apply you can have your plan ready to go and let the district know what your plan is and how you're going to get your credential here in California.
The website that you need to go to in order to figure this out is https://www.ctc.ca.gov/. This is the Commission on Teacher Credentialing. The direct link for out of state candidates is here. There are so many different variations and ways to make your credential valid in California, that each person needs to go here to figure that out for themselves. I have heard it can be a difficult process. The word on the street is that if you get a credential in California, you can easily transfer it to any state in the Union pretty easily. But coming in can be a little more difficult. (We love our red tape here in CA!)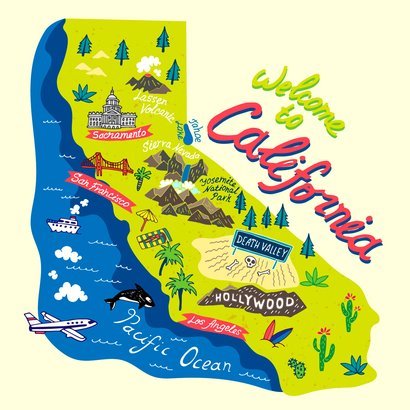 HOW ABOUT THE PAY?
People ask about salaries often. It is ALL over the board. For instance, let's look at a 7 year teacher in a few different areas of California.
7 Years of certificated teaching experience + Bachelor's degree only
San Diego Unified = $57,616.79
San Bernardino Unified = $58,737
Fresno Unified = $60,773.86
Hesperia Unified = $66,254
Fullerton Unified = $68,543
San Dieguito Union High School District = $76,248
7 Year of certificated teaching experience + Bachelor's degree + 60 units
San Diego Unified = $63,246.72
Fresno Unified = $65,909.60
San Bernardino Unified = $72,890
Hesperia Unified = $73,811
Fullerton Unified = $79,953
San Dieguito Union High School District = 96,738
Good luck figuring out the Los Angeles pay scale, it is here.
THE SALARY SCALE – A MAJOR ISSUE MOST PEOPLE DON'T UNDERSTAND
Almost every public school district will have a cap on how many years that you can bring in on the salary scale. I recently had a conversation with a gentlemen from the Texas Football Coaches Association leadership while at the USA Football Conference. He was blown away at this. Districts have contracts with the teaching union, which all falls under the California Teachers' Union.
It seems like 7 is the magic number for many districts. Meaning that you can only bring in 7 years of your experience on the pay scale. This means that you will start on year 8 on the pay scale. Even if you've been teaching for 20 years, you will go on year 8. This is one of the reasons there is a lot of turnover in California right now. It has a direct influence on how coaches move around.
For instance, school loses a great Head Football Coach. Their district only allows 5 years on the scale. This means that their pool of candidates is not going to be very large. Most great Head Coach candidates worth their salt have been teaching and coaching for more than 5 years. So, you're not going to leave year 15 on the pay scale in your district to go to that district that only accepts 5 years. So, their candidate pool is a bunch of young coaches, or coaches not in the building. Not that "walk on coaches" are all bad. But the track record for a walk on coach (a non teacher) building a strong program and sticking around for a long time is not very good.
This is a MAJOR issue, and one that many people aren't very well versed in. A lot of people think "Well we can negotiate that." And in some districts, you might be able to. But in most districts, there is absolutely NO room for negotiating this. There just isn't. It is a written contract with the union that has gone through collective bargaining, etc.
I know of a district down in the San Diego area that allows just THREE years to come in. Usually, the nicer the district is, and the better the area is, the less years that you can bring in with you. This is because when these districts hire a teacher, they will have plenty of candidates to choose from. It's all based on the law of supply and demand. Vice versa, a district in the "rougher" areas or less desirable places to live with will give more years. Some districts will bring in ALL of your years! That's tremendous.
To read the rest of this article, go here now.